First, although boiling water can play a role in disinfection, the scalding process is too short, the boiling water has no time to kill bacteria, and the temperature has been lowered.
Second, boiling water does not kill common intestinal pathogens. Generally speaking, from the birth of the baby, the disinfection work will continue until about 6 months.
What is the best way to sterilize the bottle?
The most commonly used sterilization methods are boiling sterilization and steam pot sterilization.
How to sterilize baby bottles?
Clean first. Use running water and a sponge brush to clean the remaining milk stains in the bottle with 360° without dead ends.
1. To boil and sterilize, you only need a clean large pot and a bottle holder: first add water, and the depth of the water should soak everything. Glass baby bottles should be boiled with cold water to prevent deformation or bursting, and then boil for about 5 minutes after the water is boiled; for plastic baby bottles, wait for the water to boil before putting it down, and cook for about 3 minutes, otherwise it will accelerate aging; baby bottles, pacifiers , bottle caps, and pacifier holders should wait for the water to boil before putting them down, and cook for 2-3 minutes.
2. Sterilization with steam sterilizer: Before sterilizing the milk bottle with the steam cooker, clean the milk bottle, nipple and bottle cap, then put them into the electric steam cooker respectively, press the switch, the steam cooker starts to work, and automatically after the sterilization is completed cut the power. After the bottle is sterilized, put it on the
Feeding Bottle Drying Rack
to dry.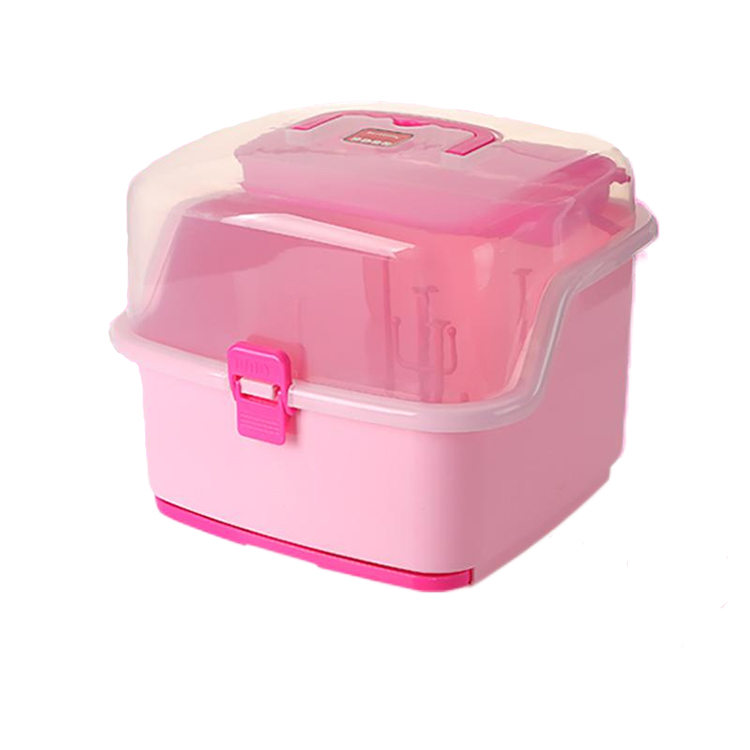 Portable Milk Bottle Storage Box Dinnerware Organizer Baby Bottle Drying Rack Baby Bottle Rack
Place of Origin
China
Brand Name
Yasmei
Model Number
8801
Material
PP
Material Feature
BPA Free
Age Range
1-2 Years, 2-4 Years
Handle
No
Commercial Buyer
Super Markets
Season
Everyday
Room Space Selection
Not Support
Occasion Selection
Not Support
Holiday Selection
Not Support
Driven Type
Manual
Mouth Size
Standard
Packaging
Combination of equipment
product size
36*32*28cm
material
PP
Age
1-6 years old
weight
1.8KG
Logistics information
Buy less than or equal to 300 products, we ship within 15...
Maritime port
ningbo