When it comes to
Kids Reading Study Table Chair
, many parents' questions are: whether such desks and chairs have any effect on children, and whether they are worth the money, should they buy them?
In my opinion, children's study tables and chairs have the following advantages:
1. Children will grow up, but ordinary tables and chairs will not. Traditional chairs are not suitable for children's height, for example, feet may hang in the air, desks may be too high or too low, and children's postures will be in an uncomfortable state. The height of children's study tables and chairs can be adjusted to suit the height of the child. The seat is usually ergonomic, which can make the child more comfortable, less fatigued, and in a better learning state.
2. Adjustable children's desks and chairs play a role in intervening in children's reading posture. Adjust the height and angle of the table and chair to the correct position, and the child's body will adapt to this angle and become accustomed to it. In the early days of children learning new things, the value of investing time, energy and money to regulate children's behavior will become more and more permanent over time. Such as children's sleep habits, eating habits and so on. Therefore, in the period when reading and learning are required, it is very important to develop early study habits and reading and writing postures.
3. Increase children's sense of ritual in reading and learning. Is it possible to develop good study habits with a study table and chair for children? The answer is of course no. The development of good study habits is inseparable from the help of parents and the role of role models. However, a set of comfortable desks and chairs exclusively for children will make children develop a sense of personal belongings and a sense of learning. expect. Increase interest in reading and reduce rejection of being asked to learn.
4. Solve the problems of not serious writing and restless movement. Children study in designated and comfortable seats, which can improve children's attention when learning to read, thereby improving learning efficiency.
5. The inclined desktop can help children correct the angle between the eyes and the book and reduce the damage to the eyesight. In our generation, no matter how good or bad academic performance is, many children put on glasses early. It has nothing to do with the inappropriate angle when we read and write.
6. The height of the desk and the inclination angle of the desktop can cooperate with each other to avoid the child's head being too high and too low when using it. The seat height and depth of the chair should also be adjusted according to the age of the child to prevent hunchback and spine problems.
Children are at a critical stage of growth and development, and their awareness of maintaining a correct sitting posture is not strong. Even if reminded from time to time, it is difficult for children to maintain a correct sitting posture all the time. A series of problems such as bending.
7. The reasonable desktop storage function can make the child's desktop clear and efficient, and develop better storage habits.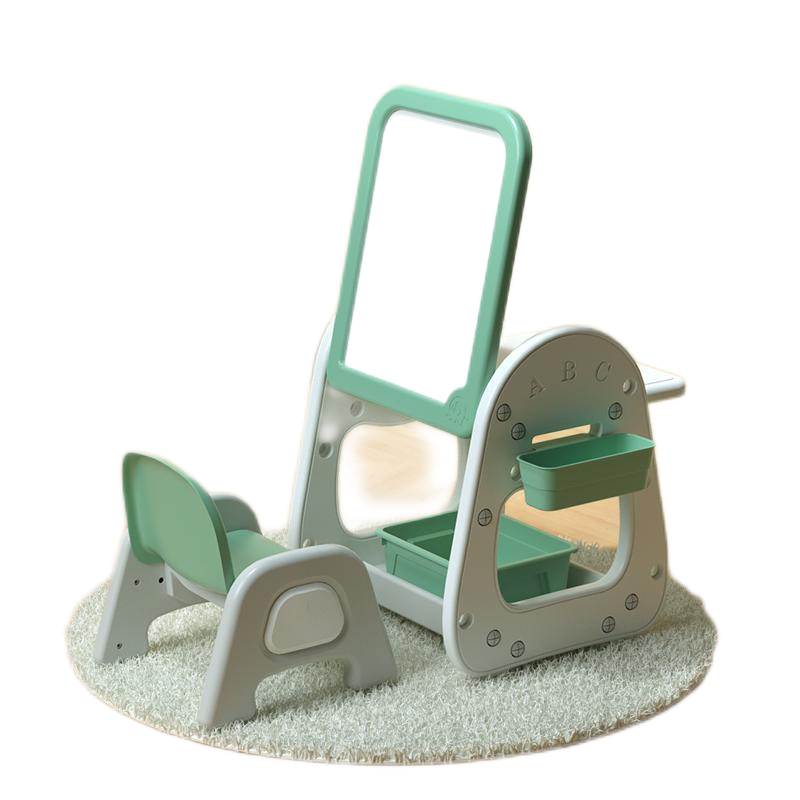 Hot selling Drawing Board For Kids 3 in 1 children's multifunctional Magnetic Drawing Tablet
Model:No.8826
Options:Parameter
Product size:Table:56*59*94/110;Chair: 44*44*48
Material:PE/PP
Age:1+
Weight:9.3,8KG
Used   BABY TABLE AND CHAIR