A
Baby High Feeding Chair
is one of the essential pieces of equipment in cribs, strollers, car seats and other commonly used furniture. Top baby high chairs provide a comfortable and safe sitting position for your child. Babies need it when they start eating semi-solid foods when they are 4-6 months old. You can let your little one have a great time in a modern baby high chair.
Practicality - For proper growth (both physical and mental), this must-have piece of furniture is very useful in a child's daily life. With the baby securely strapped to the high chair, the mother is free to do all the chores. Feeding a baby in a baby chair is comfortable for both the child and the mother. Babies learn to feed themselves properly and spend hours unattended. It helps your baby's mental growth.
COMFORTABLE - Many models of child top chairs are designed with a soft upholstered seat and different adjustable seating positions to ensure the ultimate comfort for your baby. Babies who can't sit up straight can have a pleasant meal time lying down.
EASY TO MOVE - The legs of modern baby chairs have lockable casters. You can easily move the chair wherever you need it.
EASY ADJUSTABLE - Most high-quality chairs have a variety of adjustable features so babies can use it from babies to toddlers. The height, footrest, food tray and seat can all be adjusted as the child grows. This can be done by simply pressing the marked button. It would be nice to buy a baby chair that folds when not in use.
Safety - Today, manufacturers are working harder to improve safety measures in children's high chairs. A baby chair with a three- or five-point harness prevents the baby from slipping. You can tie the baby with a comfortable seat belt attached to the chair. The food tray and legs can be locked to stay securely in place, and you can even easily unlock it when needed.
In the modern world, parents love to have this essential baby gear that will last for years until the little one can safely sit in an adult high chair. While baby high chairs with extended high functionality are inexpensive, they provide optimal use.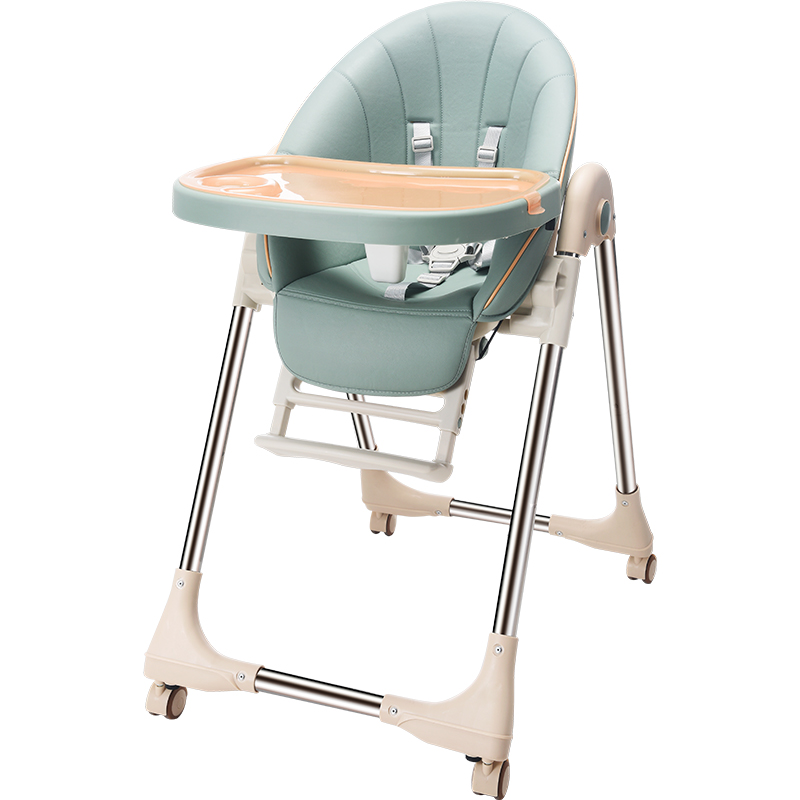 Baby Plastic Dining Table High Chair Baby Feeding Chair With Wheel
Model:No.8807B
Product size:54*83*99
Material:PP
Age:1-6 years old
Weight:7KG
Used Adjustable hight chair