Children's furniture is sturdy in construction, often made from easy-to-clean plastic, and is available in a variety of fun, vibrant colors, as well as in more durable rubberwood or birch, in hickory, white, or natural finishes. Simple and beautiful wooden desk and chair sets can often be easily placed in a school or home setting, while plastic sets in primary colors (bright red, blue or green) are easy to pair with a boy or girl's playroom or bedroom.
In addition to a spacious top surface, a rectangular or square table is often equipped with multiple small boxes or drawers for crayons, pencils, notepads, paper, scissors, and more.
Wooden tables are generally easy to care for, so food stains, fingerprints or light marks are easily wiped off with a damp cloth, while more stubborn handwriting can be removed from sight with a mild soap and cleaner. A little more elbow grease. After wiping with liquid soap, dry the tabletop with a cloth to avoid damaging its hardwood surface.
All in all, a mini furniture set with 2 to 4 matching seats that provides the perfect kid- or toddler-friendly play area for little ones to indulge in activities such as coloring, snack time, crafting projects , jigsaw puzzle board game.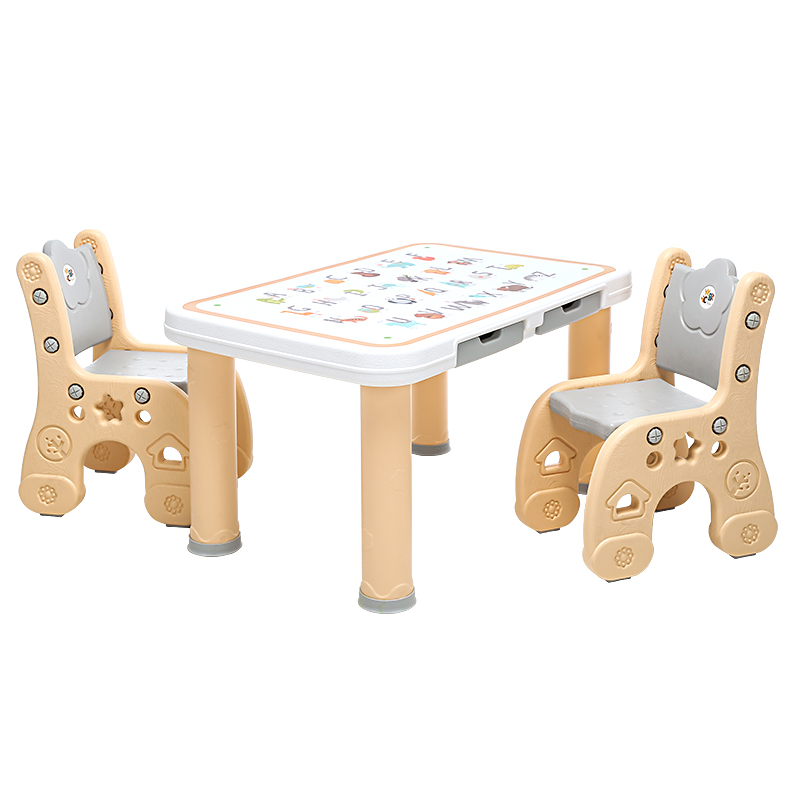 Promotional High Quality White Writing Desk Drawers Plastic Kids Study Table And Chair
Model:No.8610
Options:Parameter
Product size:94*64*44cm  35*25*58.5cm
Material:PE/PP
Age:1+
Weight:12.5 14.5KG
Used   BABY TABLE AND CHAIR
Type:Set
Application:Living Room, School
Material:Plastic
Brand Name:Yasmei
material:PP
Use:BABY TABLE AND CHAIR